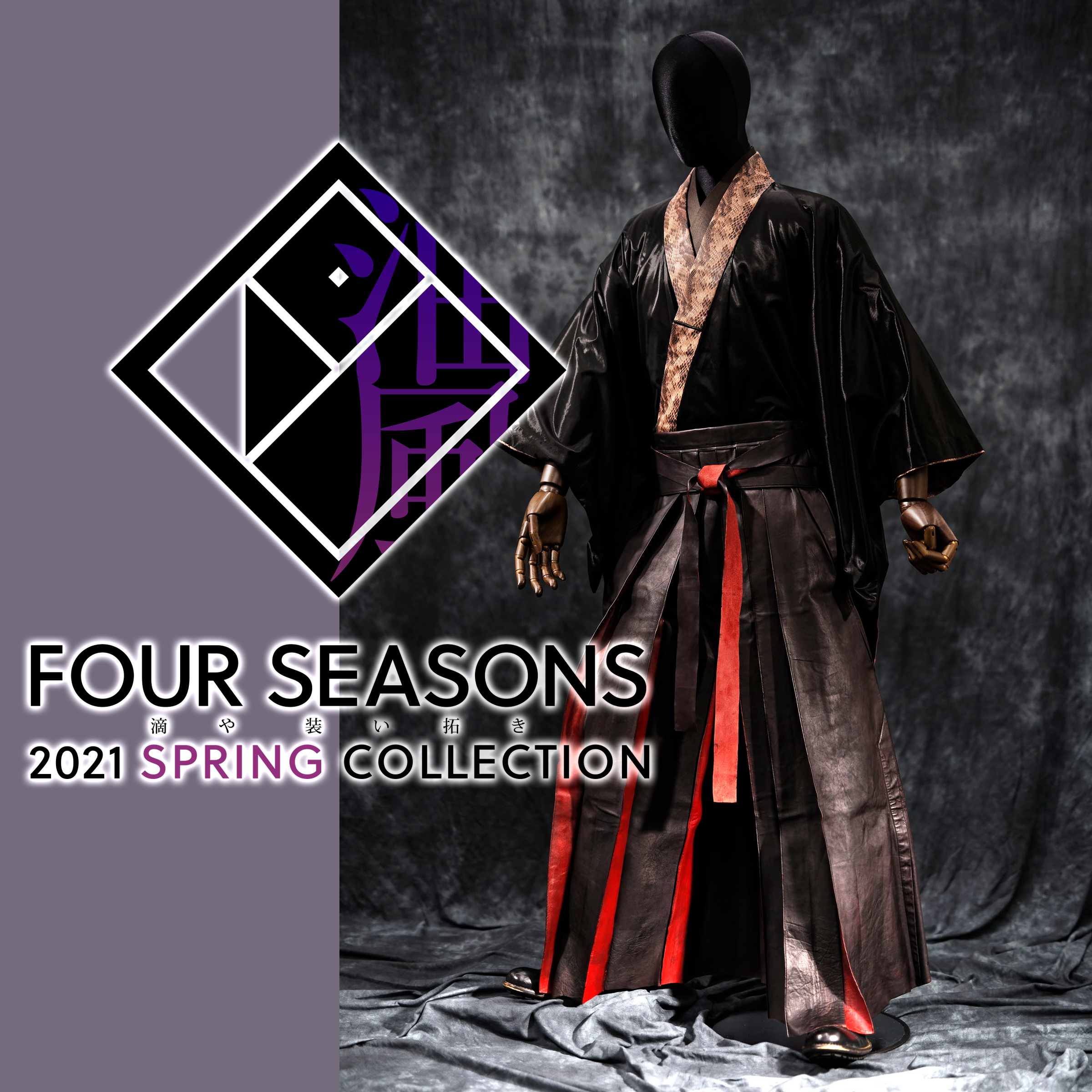 Announcing '21 SPRING COLLECTION!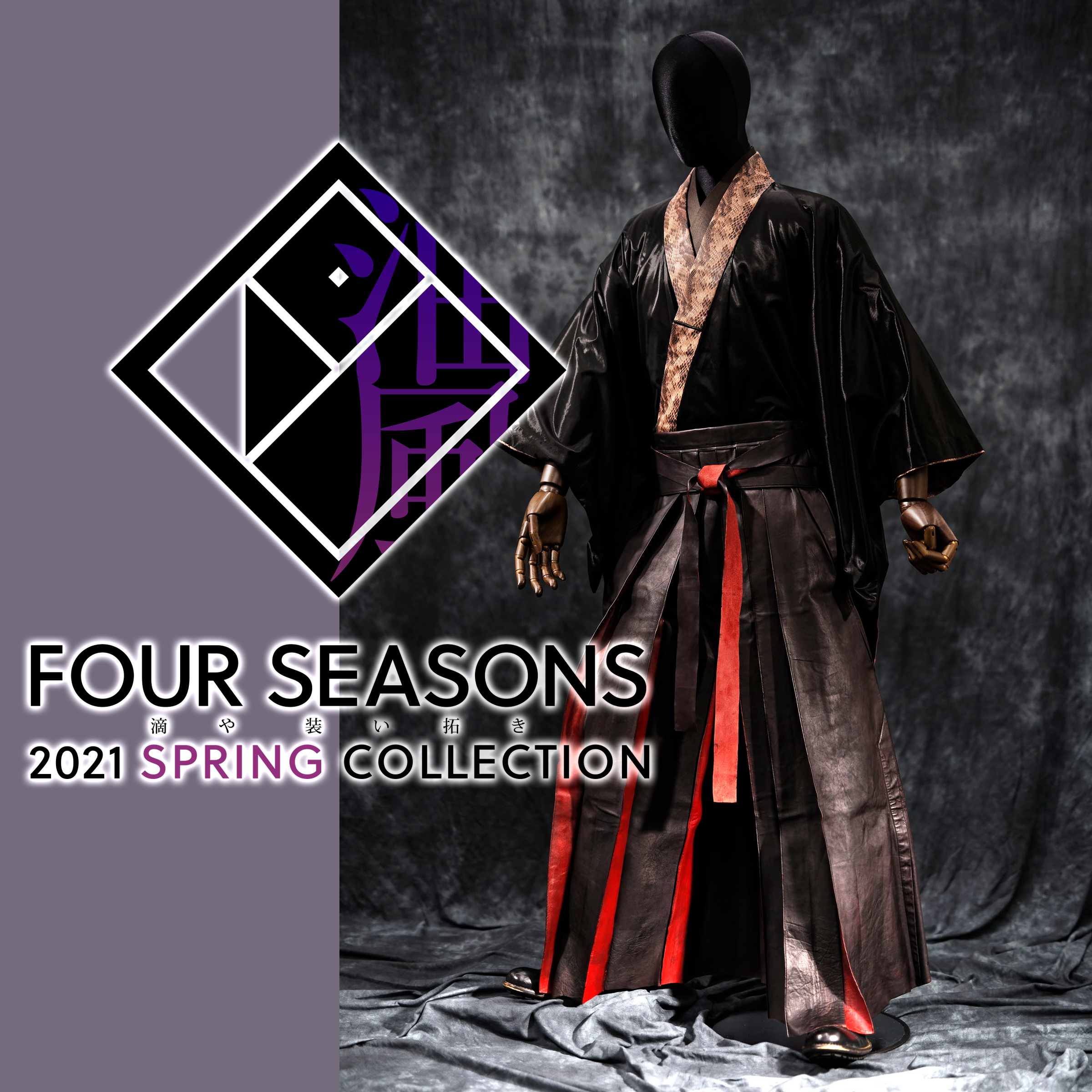 SHIZUKUYA has released '21 SPRING COLLECTION!
Thank you for always visiting [FOUR SEASONS] from the Shizukuya collection.
This spring collection is made of elaborately designed items with special decoration technology. In addition to sewing, each item is decorated with extra work. These techniques include delicate embroidery and impressive lace, as well as challenging dyeing and precise weaving techniques. This is a collection of techniques cultivated by our shop.
Shizukuya has explained to those around us that our shop's activities are "neither tradition nor fashion ". Samurai was abolished about 150 years ago. So the current tradition is not a samurai tradition. Also, the samurai is not considered to be a fashion because it is a faithfulness. In other words, from the samurai's point of view, tradition is a "false preconception" and fashion is a "lack of study". Shizukuya has been advocating a "samurai style". The samurai hated unfairness. One is a sword to make a decision, and the other is a short sword to take responsibility. As you can see from this, they were responsible for every action at the same time. Fulfilling responsibilities is the essence of samurai, and the noble way of life itself can be called samurai. All our shop products are our shop original items. There are many patented items, and if the product and design are original, the manufacturing process and craftsmen become original. Because it's the original system, it takes full responsibility for the user, the product, and the craftsmen involved in the production. As a result of 16 years of work, we have now established a unique system for all aspects of sewing and decorative processing. If we want to be a samurai, the system that can pass the buck or pass the buck is an unacceptable attitude.
On the other hand, if you look at the world, you can see people lamenting the apparel-fashion industry crisis caused by COVID-19. However, we felt that it was a natural result, even though it was too late ….
The Chinese Communist Party has been widely criticized around the world for its human rights crackdown on Uighurs. But I think we should think about our responsibility before blaming the Chinese Communist Party.
In the Uighur district, Xinjiang cotton (ie Turpan cotton) is produced by slave labor of Uighurs. A major fast fashion brand uses this Xinjiang cotton. It's not only fast fashion. It is said that 90 ~ 95% of the cotton produced in China is Xinjiang cotton, and most of the clothing produced in China is actually made of Xinjiang cotton. And countries around the world depend on China to produce clothing. In other words, many apparel companies make products using Xinjiang cotton, and they are worn all over the world. This is not limited to cotton. It is likely that slave labor is used both in the production of other materials and in the sewing process. It may be taking place not only in the Uighur area but also in various other countries and regions.
In short, people all over the world dressed in clothes steeped in the blood of oppressed people have supported human rights suppression as sponsors in order to enjoy a glamorous and comfortable culture for a cheap price. As a result, we were no different from the Chinese Communist Party. We are not victims of deception. We are the perpetrators who didn't even check their clothes. Under the current circumstances, attitude, which only criticizes the Chinese Communist Party, must be understood as unfairness and insufficient.
The first thing we on the perpetrator's side should do is to "get rid of our sins". Specifically, we must keep an eye on clothes soaked with the blood of oppressed people, so that manufacturers do not make them and consumers do not wear them. As long as Shizukuya advocates a "samurai style, " it cannot tolerate this form of unfairness and injustice in the apparel industry. Our shop has been conducting trial and error every year in order to build a manufacturing process that enables mutual understanding in all processes so as not to cause unfairness to those involved in the manufacturing process. Last year, an original manufacturing process was finally completed in which all the sewing and decoration processes could be covered by only the experts and trained craftsmen in our shop. We also focus on training new employees. As it is not a major brand, the complete management of materials (i.e. fabric and thread) has not been completed. However, we will continue to carefully select materials from fabric manufacturers that are sincere and have a clear origin, and we will continue to work on building completely original processes in terms of materials.
I believe that "Samurai Style" is based on the spirit of "Samurai" by harmonizing all aspects, including users, materials, manufacturing processes, people involved, and manufactured products.
By the way, the real leather Hakama (FSPC21-03) in this collection worked with craftsmen from the stage of tanning the raw skin. This is a masterpiece that pursues the uniqueness of Shizukuya in all processes. After sewing, the garment dye process is done by the first craftsman. In addition, the embroidery on the three items in the collection is also made using the sophisticated technology introduced this time. We would appreciate it if you could pay attention to detail images. In addition to the latest technology such as highly functional weaving and impressive dyeing, all of the other items are designed with a variety of elaborate hand-work such as decorative processing and sewing work, which is characteristic of Shizukuya. It would be great if you could experience [Hakama-Shiki] with increased purity and sophistication in this spring collection.
《2021 SPRING COLLECTION》
https://www.shizukuya.com/en/collection/2021/spring/